To create the perfect atmosphere in your coffee shop, you should pay attention to the detailed and beautiful interior, comfortable furniture, pleasant lighting, musical accompaniment, the smell of fresh coffee, and friendly staff, as well as maintaining cleanliness and order. These components will help you to create a cozy and attractive establishment where customers want to spend time and drink your coffee with pleasure.
Beautiful interior and decor
The first impression of the coffee shop is the interior and decor. You can build a cozy and comfortable space with the use of pleasant colors, lighting, and furniture. Also, you should choose unique decor elements that reflect the style and spirit of your coffee shop. This will make your restaurant unforgettable and attractive to visitors.
Comfortable furniture
Provide comfortable accommodation to customers and offer a variety of furniture options such as soft sofas, chairs, and high bar racks. Divide the space into work, leisure, or meeting areas. This will help you meet the different needs of your visitors.
Nice lighting
Lighting plays an essential role in creating an atmosphere. Depending on the concept of your coffee shop, you can use warm table lamps or stylish hanging lamps. Each of them will help you to create cozy and pleasant lighting that is suitable for rest or work.
Musical score
Music is an important element of the atmosphere of the coffee shop. You should choose a playlist that matches the style of your establishment and does not interfere with the conversations of your customers. Consider the time of day and the audience to adjust the musical accompaniment to the preferences of visitors.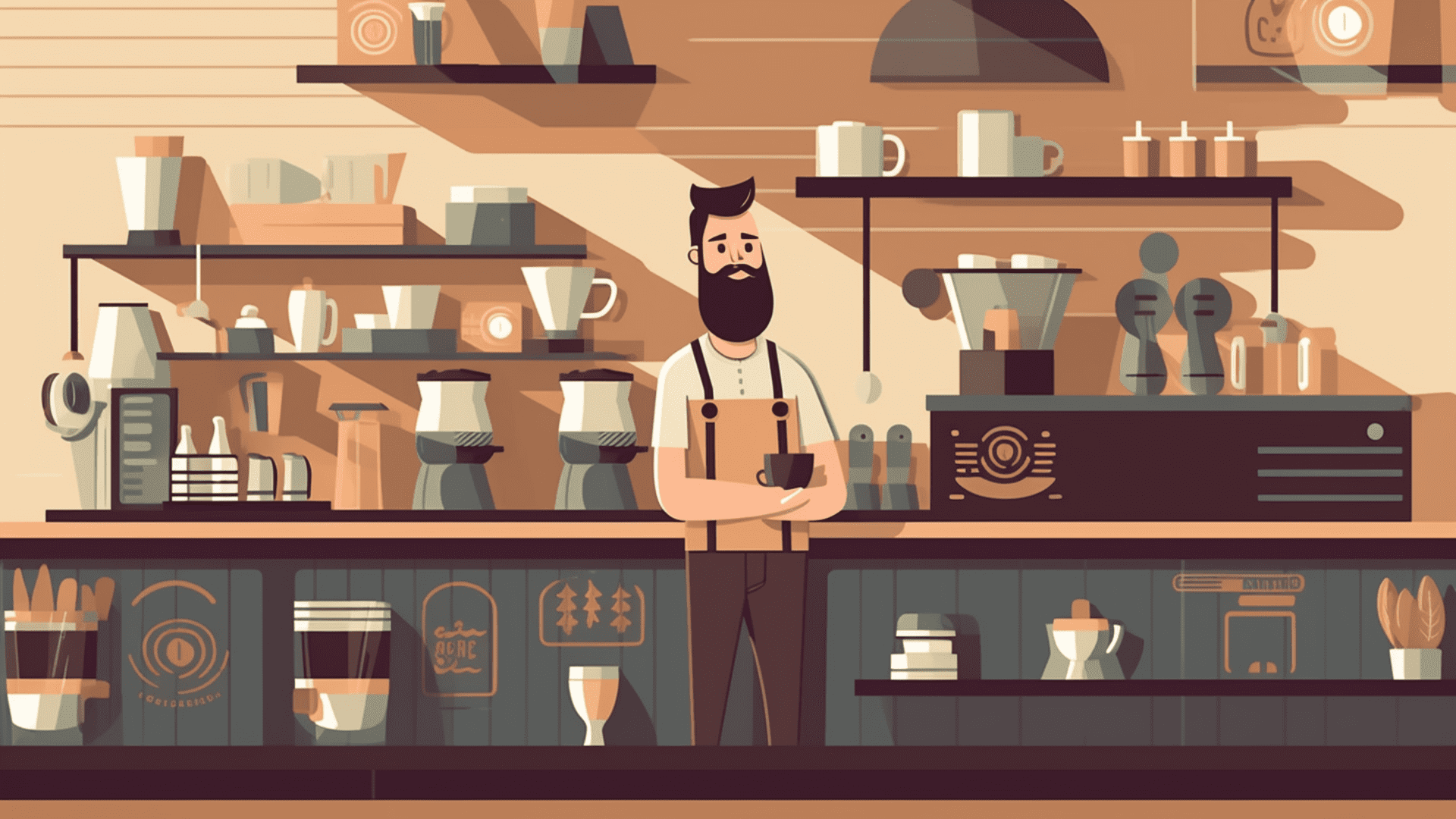 The smell of fresh coffee
The smell of coffee is an important component of the atmosphere of any coffee shop. Make sure that your coffee-making equipment is in good condition. You need quality coffee beans to create a unique flavor of drinks.
Friendly and attentive staff
Your staff is the brand of your coffee shop. The friendliness and professionalism of your employees affect the atmosphere of the institution. You should train your staff to be polite, familiar with the menu by heart, and able to advise visitors on the choice of coffee or dishes. You need to create excellent service, so customers will return to your coffee shop regularly.
Maintaining cleanliness
Cleanliness and order in your coffee shop are important for the comfort of customers. Make sure that tables and floors are cleaned regularly, and the sanitary facilities are always in perfect condition. Also, you should ensure the availability of trash cans and cleaner accessories such as napkins or cutlery holders.
Unique offers and local engagement
Create unique offers and promotions that distinguish your coffee shop from competitors. It includes exclusive drinks, author desserts, or special discounts for local residents and students. Involve the community in your coffeehouse. It is such activities and events as meetings of authors, workshops on drawing on coffee, poetry evenings, and musical performances.
Such events will help you to create a creative atmosphere, create acquaintances with local residents and attract new visitors. Adding unique offers and actively engaging the local community are factors that will help you create a cozy and attractive atmosphere in your coffee shop. This will make your restaurant the place that visitors will want to visit many more times in the future.