Opening a new coffee shop could be a successful and profitable business. However, you need to consider many important factors and make a full preparation before you start a new business. In this article, we would like to describe the key features of how to prepare for the opening of a new coffee shop.
Concept definition
First, you should define the concept of your coffee shop. It can be themed. For example, it may have a book or film theme. Also, you can think of such an option as a specialized coffee shop. For example, it is oriented to different types of coffee and desserts or offers a certain atmosphere. It can be a cozy and quiet place to work or a bright and dynamic place to meet and socialize.
Market and competition research
You should analyze the restaurant market in your city or district. We advise you to visit different coffee shops and study their menu, service, positioning, and pricing policy. You should not ignore the fact of the popularity of a particular coffee shop and its themes.
Location and rental
Choosing the right place for your coffee shop is one of the key factors for your future success. Your coffee shop can be located in a popular place in town, which has a lot of public transport nearby. Also, you should consider the availability of parking spaces, the proximity of your future restaurant to public transport stops,s and other urban infrastructure.
Menu development and product procurement
You should analyze the menu of your coffee shop based on your concept and the preferences of the target audience. A variety of menus and quality of products are of great importance in the success of your business. You should find reliable suppliers of coffee, milk, syrups, dessert,s, and other products, without which your coffee shop cannot function as a catering establishment.
Interior design
The interior design of the coffee shop and the creation of a pleasant atmosphere are essential aspects of attracting and retaining customers. We advise you to develop a design that will match the chosen concept and create a comfortable and comfortable environment.
Different decor elements, furniture, lighting, and color gamut are important factors. Each of them will enhance the beauty of the style of your coffee shop and make it unique.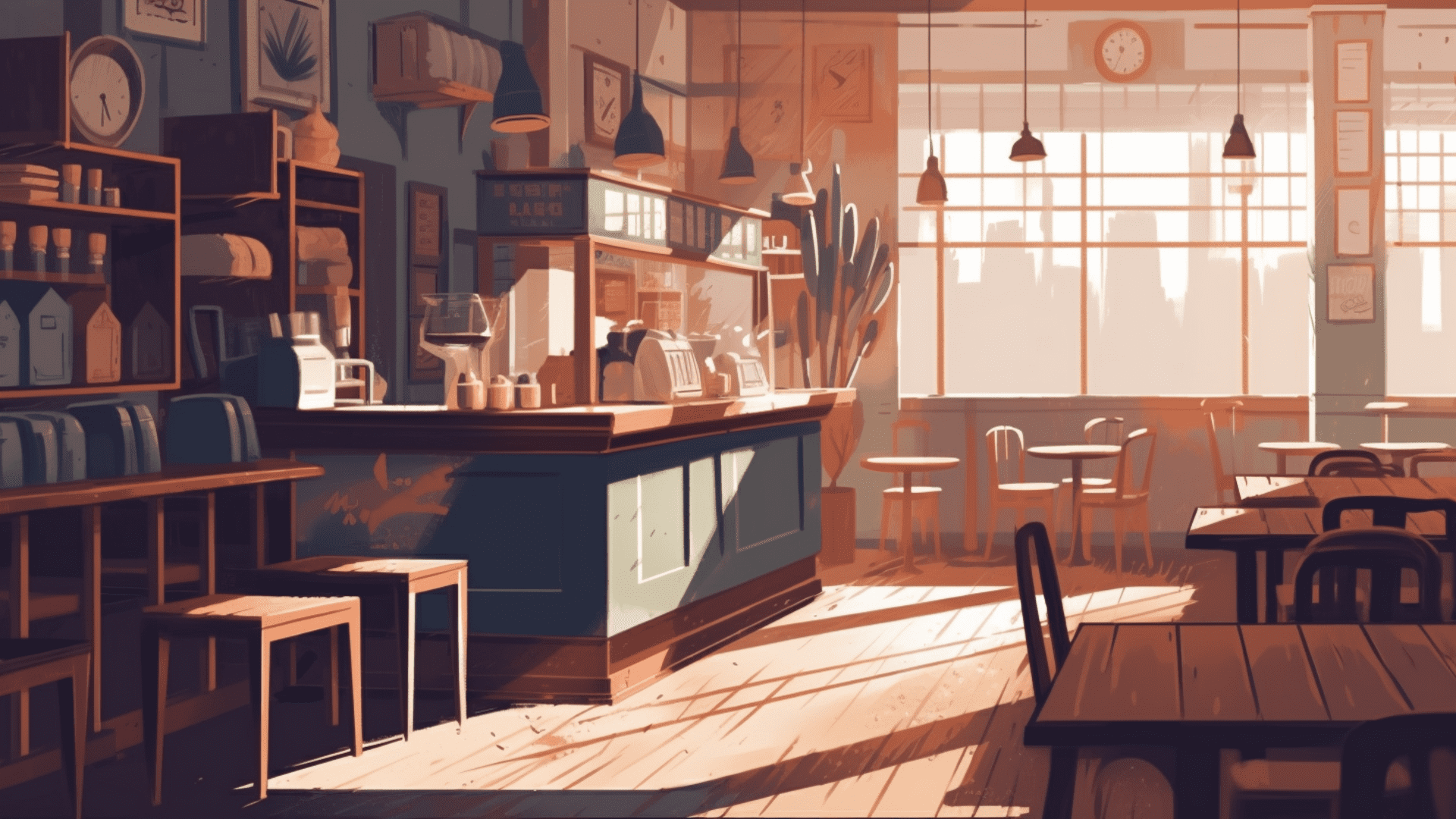 Equipment
We advise you to buy the necessary equipment for the preparation of coffee and other beverages, as well as for the storage and preparation of food. Among the main equipment, there are coffee machines, windmills, refrigerators, freezers, ovens, microwaves, dishwashers, and various utensils or tools.
Personnel recruitment
The staff of the coffee shop is the face of your business. Their professionalism and attitude toward customers depend on the success and reputation of your coffee shop. You should select the chefs, waiters, and administrators and discuss with them all the details of their future work. We also advise you to provide them with training and motivation. This will improve the quality of service.
Registration and licensing
Before opening a coffee shop, you should register a legal entity or individual entrepreneur, get permits and licenses for the sale of alcoholic beverages, as well as comply with sanitary and fire regulations.
Marketing and promotion
You should plan a marketing strategy and promote your coffee shop. Create accounts on social networks, customize advertising, and pay attention to the design of the display case and sign. You can hold promotions, discounts, and various events to attract more visitors.
Financial plan and risk analysis
Also, we advise you to create a detailed financial plan that includes the initial investment, projected income, and expenses, as well as the terms in which your project will return you the money you invested there.
You need to conduct an analysis of the risks associated with opening a coffee shop. Another important factor is to develop strategies to minimize these risks. Possible risks may include low purchasing power, seasonality, competition, and possible problems with suppliers, landlords, or staff.
Work with customer feedback and suggestions
An important aspect of a successful business is an attentive attitude to customer feedback and suggestions. You should read reviews on social networks and websites that have a theme restaurant business. If you take into account suggestions and comments from visitors, it will help you improve your service and offer.
Continuous development and improvement
Even after the opening of a coffee shop, you should strive for continuous development and improvement of your business. You should take into account all new trends and innovations in the coffee industry, train staff in new methods and techniques, update the menu, and improve the interior. This will help you stay competitive and attractive to your customers.
In conclusion, opening a coffee shop is a complex and responsible process that will require you to have detailed training and professional approaches. If you do not forget all these factors, then you will be able to create a successful and profitable business that will become a favorite destination for your customers. We wish you triumph and good luck in realizing your dream of opening a new coffee shop.